---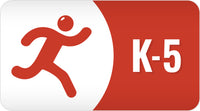 DIGITAL PRODUCT
PE Journeys K-5
Regular price $100.00 USD / school / 2 years
Tax included.
Description
CATCH PE Journeys is designed to promote children's enjoyment and participation of moderate-to-vigorous physical activity (MVPA) during PE classes, recess and extracurricular activities, and recreation time with family and friends. The primary focus of CATCH PE Journeys is for schools to provide quality physical education in which students engage in maximum amounts of enjoyable MVPA during class time.
CATCH PE Journeys includes a variety of developmentally appropriate, non-elimination games and activities that are super fun and easy to set up. Each lesson features detailed instructions for how to play the game and lists the equipment that is needed.
Features
A fully integrated guide to evidence-based P.E. instruction and classroom management techniques
Full scope and sequence for a 36-week school year
Hundreds of games and activities that develop physical & social skills
Social & Emotional Learning (SEL) integration
National standards alignments for each activity
Multiple resources for reflection, assessment, and goal tracking
Interactive slides to support lessons with visual content
Keywords slides for word walls and vocabulary building
Activity demonstration videos
On-demand training and Inclusion Guide with adaptations for kids w/physical and intellectual disabilities
View Full Details
Physical Curriculum & Materials
For supporting physical materials, including hardcopies and equipment, visit our partners at School Speciality.
Browse Physical Products